Online Banking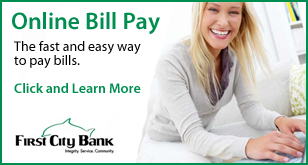 Privacy, Convenience, and Security!
First City Bank's Personal Online Banking makes handling your everyday banking needs easier than ever. With 24-hour secure access to your account, Mobile Banking, eStatements and Bill Pay, Online Banking is the solution for your high-speed lifestyle!
With Online Banking you can:
Get real-time access to your account information via the Internet, 24 hours a day, seven days a week
View up to 12 months of account statements with free eStatements*
Transfer funds and make payments between your First City Bank accounts
View images of cleared checks
Download account information to Quicken® or Microsoft Money®
Pay bills and make payments to anyone you would normally pay with a check - including large companies, small businesses or individuals with Bill Pay*
Use Mobile Banking* to access your account with your mobile device
* Additional enrollment required
If you are an existing customer and not already signed up to use Online Banking, it's easy to get started. Enroll Now!
Already Enrolled? Log In Now!
Want more information?